Is it that time of your life when you get to choose your dream engagement ring! Your favorite person is proposing, and they want you to help in choosing your engagement ring. Congratulations on this journey you're about to start. This engagement ring guide will help you choose the perfect ring for you, after all, it is one thing you will wear for the rest of your life.
Now, are you excited to get started on choosing the correct ring style for yourself?
Here, we have curated a list of things one should keep in mind before finalizing "the ring" you desire.
1. Finalizing the true shape, you desire 
Engagement rings come in a lot of different shapes and sizes, but the real question is what suits your style? Each cut of diamonds or gemstones is priced differently with different factors coming into play, such as color, clarity, and carat weight.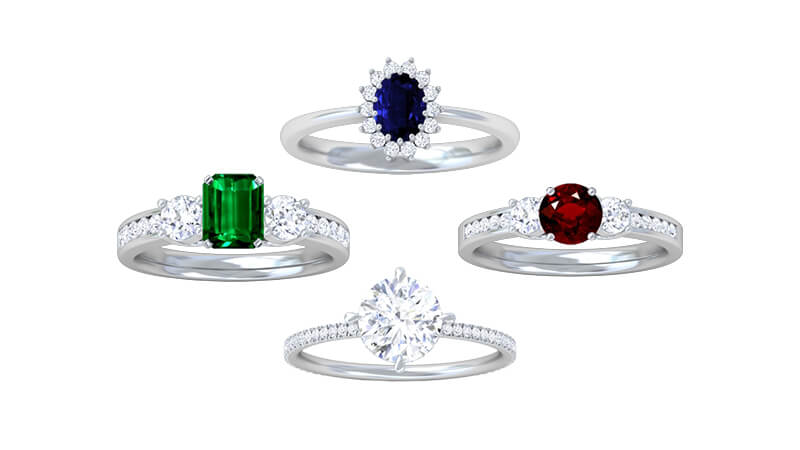 Center stone shapes will vary from round, oval, emerald, Asscher, pear to marquise, etc. while settings will vary from solitaire, to pave, to three-stones. The designs to choose from are endless. So, let's keep in mind the true shape of the center stone you have always envisioned and then finalize your engagement ring.
2. Diamond or Colored Stone
This is a complete matter of personal preference. While a diamond is a traditional choice for an engagement ring, most people are now opting for colored stones due to their vibrant hues, rarity, and economical factors. Some people choose colored stone, as they would like a ring that represents their birthstone and not just their engagement ring. It's also believed spiritually, that there are positive omens associated with wearing your birthstone. The center stone is always a personal choice, so whatever you choose, just be sure that it works for you. 
3. Should Carat Size Matter?
The size of the gemstone you select for an engagement ring matters. We are sure, the bigger the ring the better it is…right? Well, not necessarily. The age-old question of quality versus quantity applies to engagement rings selections as well; some people prefer a bigger stone to a smaller stone, while others want the cleanest stone possible, despite the carat count. Nonetheless, it is always good to think about the carat size you want and the dimensions of the gemstones in mm measurements. If you know what and how much carat weight should be in your ring, the selection process gets a little easier.
4. Correct Metal goes a long way
Traditional metals like yellow gold, white gold, and platinum are classy and timeless metals that everyone loves to get their engagement rings made in. In recent years, rose gold has also made its place within people's hearts because of its lovely tinge of pink hue that adds a little romance to the whole vibe of the ring. Yellow gold tends to go with darker or olive skin tones, while white gold goes better with paler tones. It's always best to find what you're comfortable with.
The platinum ring stands for status, riches, true love, purity, and strength. Platinum is usually expensive when compared to gold due to its density and rarity. One should keep in mind their budgets while making the correct choice for a metal in a ring
At GemsNY you can buy a ring according to your preferred metal, click here to explore.
5. Certified Jewelers and Certified Jewelry
An engagement ring is an investment, one in which you invest quite a lot of money, making sure the quality of the product that you're buying is worth it. A certified jeweler is your best bet and he is the person/company you should invest in.
GemsNY is a certified seller of the finest quality gemstones, all of our gems are 100% natural and most of our stones are certified by distinguished, independent gemstone laboratories such as the GIA, IGI, and AGL.
GemsNY has the finest and the best quality gemstones and jewelry options available. We are a bespoke jewelry company and have more than 50,000+ colored gemstones to choose from.