Wedding Anniversaries are always special no matter how many years you've been together!! This day brings back a lot of memories for you of all the exceptional times spent together. It is also the day to take a pledge to carry on with this fascinating journey for the rest of your life.
21 years and above together showcases your love for each other. Although some couples think that 21 years together doesn't require you to give your better half presents for the special occasion, here we may have differing opinions. Gifts given on a special occasion will always bring a smile to the recipient and we are sure you don't want to miss that opportunity. 
The official jewelry anniversary list, endorsed by countless organizations including Jewelers of America, contains the gift types for each year of marriage. Please click here to know more.
You can read our previous article – Gift Ideas for 16th – 20th years of Being Together and learn more about the previous years you missed out on giving the perfect anniversary gifts!
We have curated a list of presents that can be given to your spouses each year from 21st – 25th Anniversaries. We have a list of gifts for the previous years as well – 15th – 20th Year.
Year 21 – Lolite
21st year of marriage, brings iolite jewelry as a gift of inspiration. Iolite is the gemstone variety of cordierite, deriving its name from the Greek word, 'ios,meaning violet. That is one of the various rich colors iolite is found in; it also can be found in yellowish grey to rich blue.
On the Mohs scale of hardness iolite ranks at a 7 out of 10, making it very suitable for any type of jewelry. Iolite is also a relatively inexpensive gemstone which makes pieces like bracelets, necklaces, and large rings very popular settings to opt for.
Year 22 – Spinel
One of history's most popular yet unknown gemstones – spinel, is known to be the 22nd year's gift theme. It is a variety of the mineral spinel for which it shares its name. Much like sapphires, spinel can be found in a wide variety of colors and hues.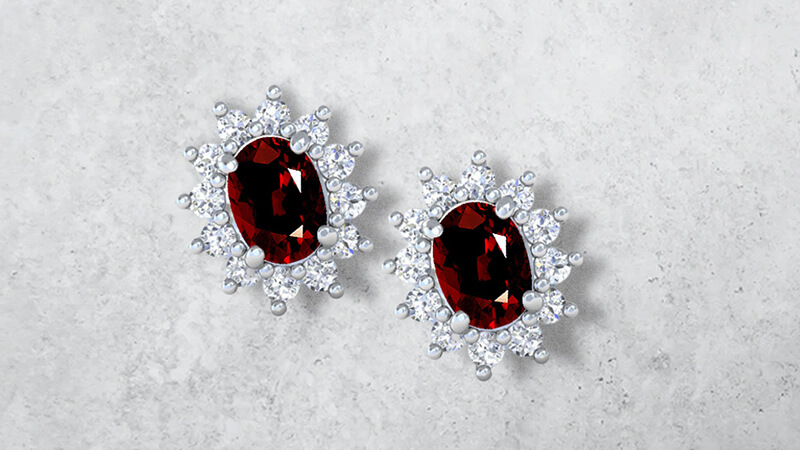 Spinel bears low name-recognition compared to other precious gemstones, However, it has recently become a very popular addition to many fine jewelry and personal collections, mainly due to its wide variety of vibrant colors, historical prominence, and excellent value.
GemsNY has an extensive selection of spinel, as well as various settings to suit any gemstone. To begin building your next spinel piece, click here.
For more information on spinel, visit our Spinel Education Page.
Year 23 – Imperial Topaz
In year 23 of marriage the theme for gift-giving is imperial topaz. Imperial Topaz is a pink, yellow or orange variety of the silicate mineral topaz. The most prized and highly sought after variety of imperial topaz is the bright pink variety. Almost all of the world's imperial topaz is mined from the Ouro Preto mines located in Minas Gerais, Brazil.
On the Mohs scale of hardness imperial topaz ranks an 8 out of 10, making it one of the harder gemstones and thus, very suitable for everyday wear in jewelry. The rich pastel colors exhibited by imperial topaz makes it a very popular choice for rings and solitaire pendants to give a soft and subtle look.
Year 24 – Tanzanite
Year 24's tanzanites are one of the most popular gemstones emerging in the jewelry industry today. Made from a variety of the mineral zoisite, tanzanites are a relatively recent discovery, having been first mined in 1967.
While tanzanite may not have an extensive history as older gemstones, some believe it represents wisdom, dignity, and truth – suitable themes for any marriage that has lasted over two decades! It also represents the birthstone for the month of December. In the short time that tanzanite has been on the market, it has become a staple in the collections of both jewelers and customers alike due to their vivid colors and incredible value.
GemsNY has an extensive selection of tanzanites, as well as various settings to suit any gemstone. To begin building your next tanzanite piece, click here
For more information on tanzanite, visit our Tanzanite Education here.