If you have a birthday in August, then consider yourself one of the lucky ones! Why? Well, as an August-born baby, you can choose between 2 beautiful gemstones as your birthstone – The lush green Peridot, and the sneaky Spinel. These befitting gemstones are the perfect presents for August babies. Read the brief information about 2 popular August birthstones.
Peridot, the olive green gemstone comes from a magnesium-rich variety of olivine. Peridots are formed in silica-deficient rocks such as volcanic basalt and pallasitic (Source: Wikipedia). Peridot is one of the few gemstones that occur only in the olive green shade.
Spinel, the red gemstone (that is sometimes mistaken for a ruby: Hint- The Black Prince Ruby), is the magnesium form of the spinel group of minerals. Spinel received its name from the Spanish word, Spinella which means spine, in reference to its pointed crystals.
Let's get to learn more about the august birthstones in detail.
1. Peridot
One of the rarest gemstones in the world is the peridot. It is a semi-precious gemstone and comes from the mineral olivine. Peridot is known for its rich, vibrant color and excellent value. This gemstone is a variety of the mineral olivine and derives its vibrant green color from the presence of the trace element iron.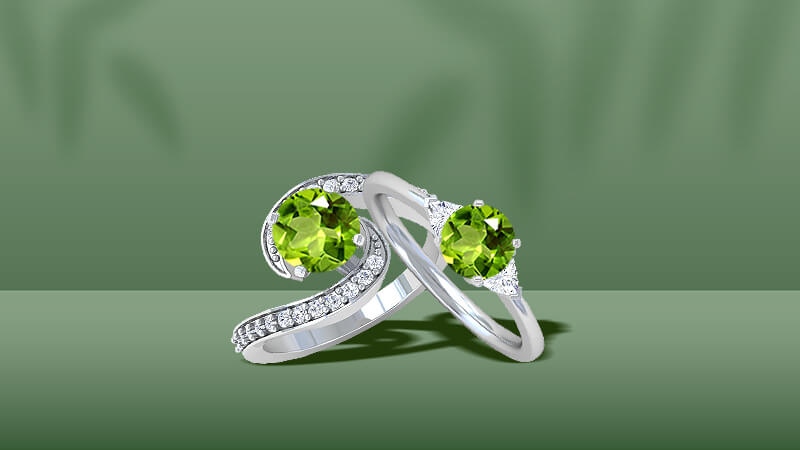 Peridot seems to have a rich and extensive cultural significance. Peridot is one of the oldest gemstones believed to have been mined in 1500 BC in the red sea. Ancient Egyptians called this gemstone the "Gem of the sun" while the medieval Christians used peridots on their religious relics.
Peridot ranks 7 out of 10 on the Mohs scale of hardness, making it a durable gemstone that can be used in everyday jewelry. GemsNY's peridot rings collection is definitely worth a try.
To learn more about Peridot, click here!
Fun Facts about Peridots
Peridot is derived from the mineral olivine. In the past, the gemstone was referred to as Olivine. Another name for Peridot is chrysolite.
Since 1912, Peridot has been used as the official birthstone for the 8th month of the year – August, along with Sardonyx.
Miners have to dig really deep to find Peridot. It is usually buried deep under the igneous rocks, especially in areas where there have been volcanic eruptions.
2. Spinel
One of the recent gemstones that have been added to the list of birthstones for august is Spinel. It is a variety of the mineral spinel group for which it shares its name. Much like sapphires, spinel can be found in an array of different colors and hues. The most popular color, however, is red, though it can be found in a wide array of vibrant colors such as pink, blue, green, yellow, etc. As said, red spinels are popular in spinels but as a gemstone spinel is often looked over. This may be due to the fact, that in ancient times, people used to confuse spinels with rubies.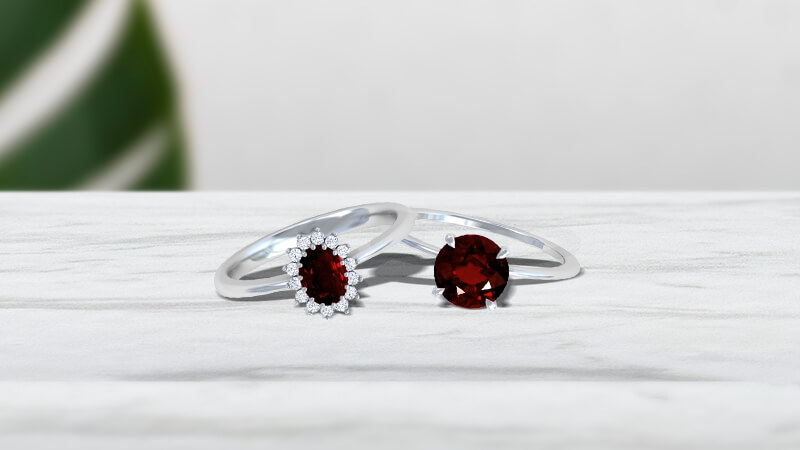 Spinel is ranked 8/10 on the Mohs scale of hardness making it a durable and versatile gemstone to be used in jewelry worn on a day-to-day basis. GemsNY has the finest quality spinels jewelry that you can get for yourself. Click here to make your own piece.
To learn more about the second August birthstone click here!
Facts about spinel
A synthetic variety is produced for both military and commercial use because it looks like glass, but is considerably stronger and more resistant to pressure.
The famous 170 carat Black Prince's Ruby is not only the centerpiece of the Imperial Crown of England, but it is also a red spinel!
It is mostly mined in Sri Lanka and Burma., It can also be found close to corundum deposits containing rubies and sapphires.
GemsNY has a huge collection of different types of accessories like earrings, rings, pendants, etc with a collection of more than 50,000+ natural gemstones that will woo you. To get your hands on these beautiful August birthstones Click here to explore now.