As we welcome the month of November and start to feel the joy of upcoming celebrations, pumpkin spice everything, and we start to binge watch Christmas movies, we also celebrate November babies. For those born this month, they have the option of choosing between two gorgeous birthstones, Topaz and Citrine. Topaz can be found in an array of colors, while citrine is praised for its warm yellow and orange hues. Both of these gems are believed to bring a sense of calm, warmth, and good fortune to their wearers.
Topaz stands apart from the other gemstones because it comes in an array of rainbow colors – from blue to pink to green. This November gemstone is believed to have received its name from the Greek term "Topazos", the ancient name of St. John's Island in the red sea where golden stones were found. Others believe the name actually originated from the Sanskrit word "Tapas" which means fire.
Citrine, the gemstone prized for its golden gleam, is reminiscent of the summer months with hues ranging from Amalfi coast lemons to the bright midday sun. This gemstone tends to bring a spark of joy with its subtle earth tones which bring a vintage vibe to its wearers.
Now that we have just started to understand the 2 November birthstones, let's take a deep dive to know each of them even more.
1. Topaz
The rainbow birthstone of November is ranked 8 out of 10 on the Mohs scale of hardness. With its high durability, this gemstone is perfect to be crafted into jewelry that can be used routinely.
Topaz is a stone that exhibits pleochroic characteristics; which means that when moving the crystal in different directions, it changes colors.
There are many beliefs attached to this gemstone from ancient times (Source: Wikipedia):
Topaz was believed to cure lunacy, it was an English superstition.
The ancient Romans believed that topaz protected them from dangers while traveling
Topaz was assumed to increase the body heat of the person and helped in relieving cold and fever.
In Europe, Topaz was believed to increase mental powers.
Where can it be found?
Brazil is one of the top producers of topaz, though it can be found in many other parts of the earth such as Canada, Nigeria, Pakistan, Japan, Russia, China, Burma, etc.
Facts about Topaz
Topaz for Royalty – In the 18th and 19th centuries, Topaz was used in jewelry meant for the Russian Czar's family. The use of Imperial topaz was restricted to be used only by the Czar, his family, and those who were gifted.
Red is the rarest form of Topaz. There is currently less than 1% of all topaz found that has a reddish-orange hue. 
Topaz is the traditional stone for the 19th and 4th anniversary gifts.
The Braganza "Diamond" of Portugal, a gigantic, uncut rough crystal weighing 1,680 carats, is actually a topaz but was believed to be a diamond. 
Topaz was normally confused for other gemstones bearing similar colors. 
2. Citrine
The name "citrine" replaced the standard name of "yellow quartz" in 1556, which was derived from the French word "citron", meaning lemon. It ideally received its name due to its colors. The yellow-orange gemstone comes from a variety of quartz. Often mistaken to be a topaz, this gemstone has acquired a special place in the hearts of people because of its bright yellow and orange hues. Citrine is ranked 7 out of 10 on the Mohs scale of hardness making it a durable gem to be used in jewelry on a day-to-day basis.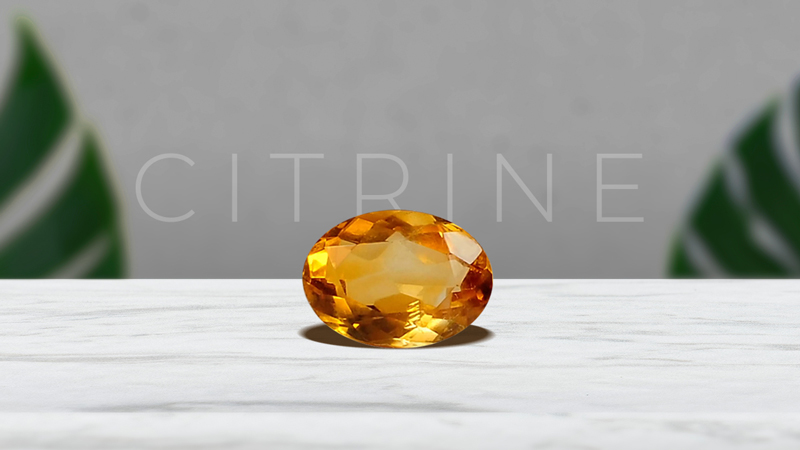 The warm hues of this gemstone symbolize mental clarity and emotional well-being. When we see this sparkling gem, the warmth and happiness it reflects are such a positive feeling. It is also believed that this gemstone has healing powers.
Where can it be found?
Natural Citrine originated in the Ural Mountains of Russia and in Madagascar. However, deposits can be found in many parts of the world such as Bolivia, Spain, Mexico, and Uruguay.
Facts about Citrine
Citrine is a transparent variety of quartz crystals. It gets its color from iron impurities within the quartz at the time of formation.
Chinese emperors often wore citrine jewelry because they assumed it would increase intellectual capabilities and broaden the mind of its wearer.
Citrine is recognized as the preferred gift for the 13th anniversary.
The Malaga Citrine is the world's largest faceted citrine and it weighs a whopping 20,200 carats.
Natural citrine jewelry is extremely rare. Most of them are actually heat-treated amethyst or smokey quartz
GemsNY, we are a bespoke jewelry company that deals with 50,000+ natural gemstones. Topaz and citrine are the two gemstones that we are not working with, although we can definitely get them for you on request.