An engagement ring is a symbol of love and commitment. Our favorite celebrities love to show off their fiances… and of course, the rings, while telling the world about their love and commitment. As you know, we all love to follow these trend setters! . The hottest current trend among celebrity couples are colored gemstone engagement rings.
Celebrity rings are usually designed by the finest jewelers that showcase the vibrant and rich colors of the stone. These rings are among some of the finest handcrafted rings in the world. Emerald is a popular gemstone choice among celebrities. Known for their rich green color and significant rarity, emeralds are a status symbol as much as they are a work of art.
Here are some of the most notable celebrity emerald engagement rings.
Victoria Beckham
Former Spice Girl and wife to the legendary soccer player David Beckham, Victoria Beckham is well-known for her trend-setting styles. She is the 'Posh Spice' afterall. She has been engaged for 22 years , and has since been given 14 rings.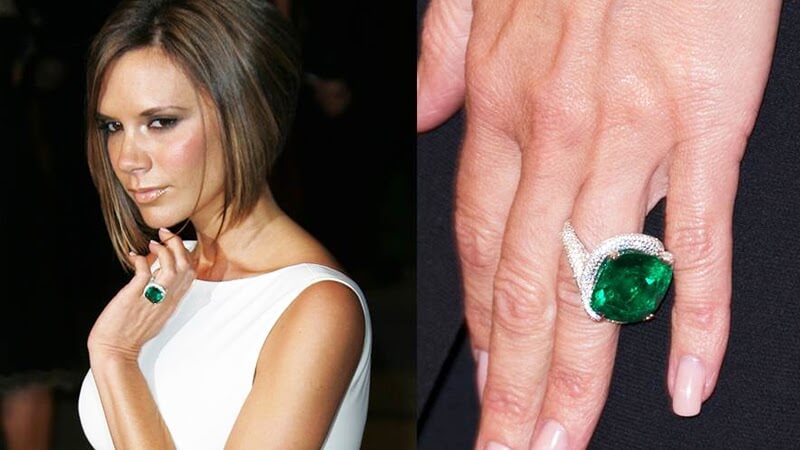 Her emerald engagement ring was received in 2007 and features a cushion-cut emerald set in a diamond pave spiral setting.
Halle Berry
The Oscar-winning actress was given a beautiful 4-carat emerald engagement ring by her fiance in 2012. The emerald-cut Colombian emerald is set in yellow gold with a three-stone setting, having two diamonds on either side.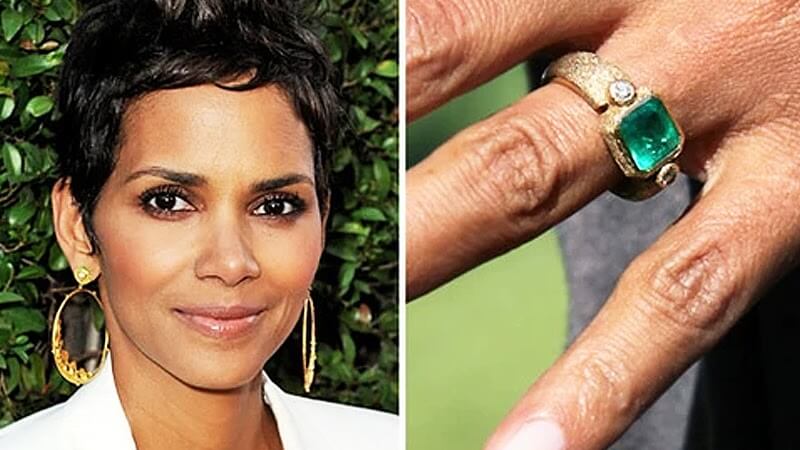 Her 4-carat emerald square yellow gold ring was handcrafted by French jeweler Robert MazioThis perfect emerald ring contains Phoenician codes that supposedly represent the couple's love story, making it even more priceless than the ring's estimated value of $200,000!
Jaqueline Kennedy Onassis
While Jackie O's ring may not be recent, her style is timeless and often-recreated to this day, and her jewelry is no exception. Straying from norm at the time, she and JFK shopped for the ring together.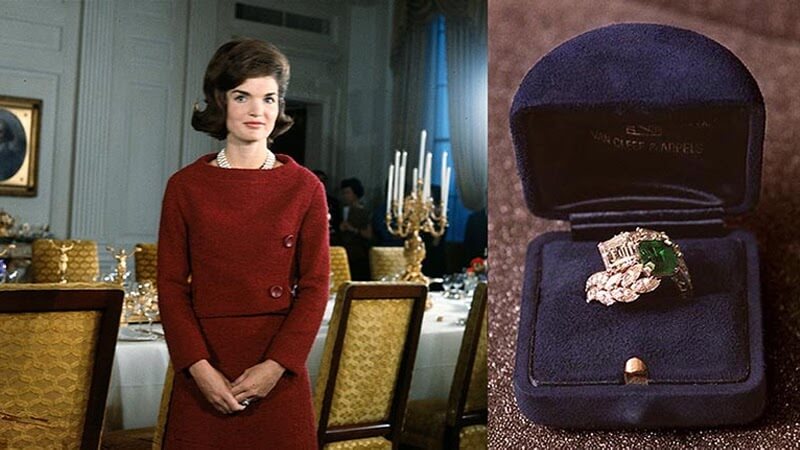 She was finally won over by a two stone design- a 2.83 carat emerald cut emerald and a 2.88 carat emerald cut diamond. The gemstones were set in yellow gold surrounded by a wreath design appearing to hold up the center stones. Today, the ring is on display at the JFK Presidential Library and Museum in Boston.