Are you one of those who can't resist the charm of a sapphire? It's no wonder that the blue sapphire draws a lot of attention to the one adorning it. You'll be pleasantly surprised to know that even though the sapphire is associated with blue, it is actually found in various other colors such as purple & yellow in addition to being colorless. This variety opens up a whole new world of jewelry to you and you can wear something different on every occasion without ever getting bored.
1. Sapphire Ring
Whether it is an engagement ring or just a fashion accessory, a sapphire ring always goes beyond your expectations. Known to be the gems of fidelity and attachment, sapphires look equally enigmatic in a solitaire setting as they do in any combination.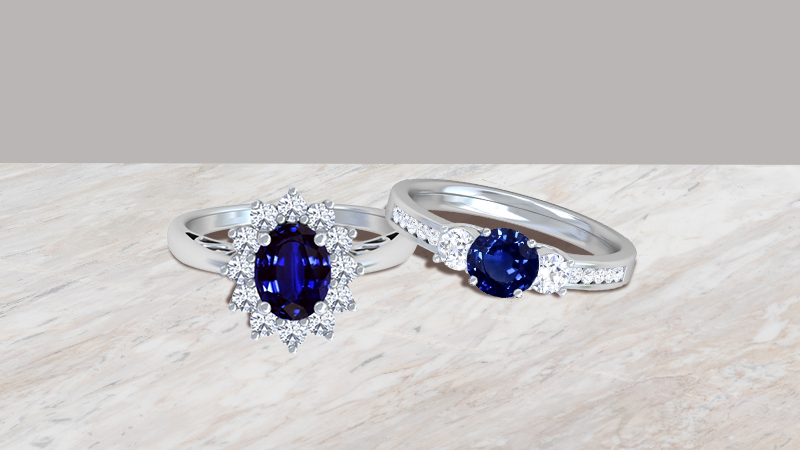 Even though blue is the most sought after color in sapphire jewelry, you can treat yourself with a pink or yellow sapphire ring.
If you want to create a ring of your own design, you can do it here.
2. Sapphire Pendant
Are you in the market for a sapphire pendant? While other jewelry items might require an effort to make a statement, a pendant simply can't be missed and if you keep changing it, you can be the talk of the town. Besides accentuating your neck line, a pendant represents wealth, style and finesse.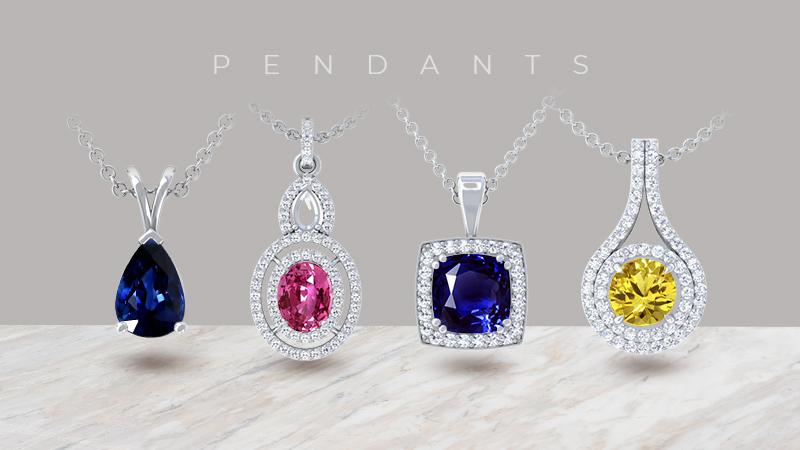 Pendants are perhaps one of the earliest ornaments humans started wearing. Now you have a great deal of options to consider; from the metal for your delicate chain to the color of your sapphire. Explore here.
3. Sapphire Bracelet
There is no telling how a bracelet enhances the beauty of a wrist. The 'wrist wrap around' has been here for a very long time. But wait, a sapphire bracelet!! You probably haven't considered a sapphire bracelet, but why not break the shackles of the ordinary and try something unique? Look at these marvellous creations from our jewelry artists.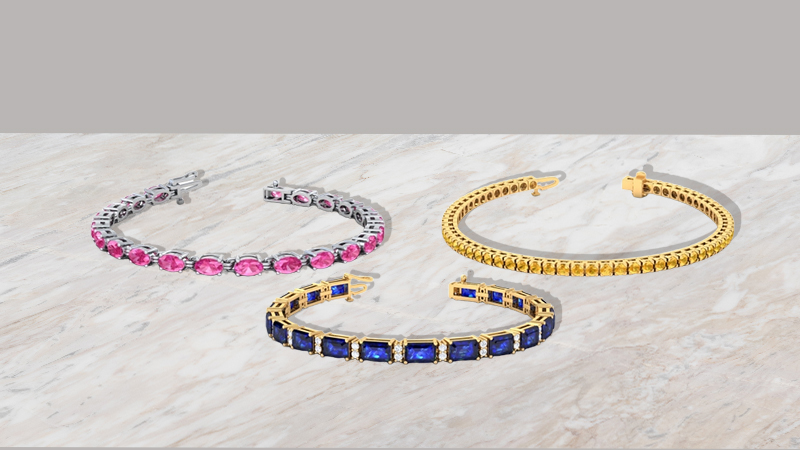 There are so many designs available that you may like to own at least one of every design. One thing is sure however, your sapphire bracelet will always be up to the occasion whether it's a regular office day or an exciting weekend date.
4. Sapphire Earrings
Earrings are the most ubiquitous form of jewelry that most people wear today. Selecting the right kind of earring is not as easy as it appears. You have to consider many factors such as the shape of your face, the design of the earring, and the type of metal. But if you want a safe bet, then you must choose a sapphire earring. Sapphire earrings suit everyone, every time and on every occasion.
Generally speaking, white or pink gold earrings suit light skin tones whereas the warmth of yellow gold complements dark skin tones.
You can choose a minimalist design or a flamboyant one with a diamond halo depending upon your taste and budget. You can also mix and match your sapphire with other stones of your choice in your earring. What are you waiting for, shop here.