Throughout history, bracelets have played a significant role. The warriors and the kings all around the world from different cultures used to wear armbands on their wrists. Men have been wearing bracelets for centuries now.
Be it to amplify their status or for fashion, bracelets have been around for some time. Big celebrities and influencers like Prince Harry, David Beckham, Justin Bieber, Johnny Depp, etc. are fashion icons that have styled different bracelets on different occasions making a fashion statement globally.
We have listed 5 reasons why wearing bracelets are the new "in-thing" in fashion for men.
1. Conversation Starters
If you're the man who is the life of the party, or the one who likes to stand in the corner and observe other people and wait to talk to them – accessories can be great conversation starters. Just a "Hey, Nice bracelet, where did you get it" or "Hey, your bracelet goes with the outfit" can be such a nice ice breaker.
These little and simple ways to start a conversation are really helpful in the long run.
2. Defines your Personality
You're not different from the man who doesn't like to accessorize, you're just more stylish and in line with the current trends and that is a great thing! The kind of accessories or bracelets that you wear is what defines you, and your personality.
There are different kinds of bracelets – gemstone bracelets, leather bracelets, beads bracelets, etc. and all these different kinds of bracelets reflect different kinds of characteristics about a person!
For example – A man wearing gemstone bracelets can be perceived as a classy person whereas a man wearing a leather bracelet can be perceived as a bold type, ready to take on any situation.
3. Fashion Statement
We all know that bracelets today are more than defining a person's personality! They are a fashion statement accessory. Standing out of the crowd has always been an important thing to a man, and what better way than to accessorize and showcase your personality.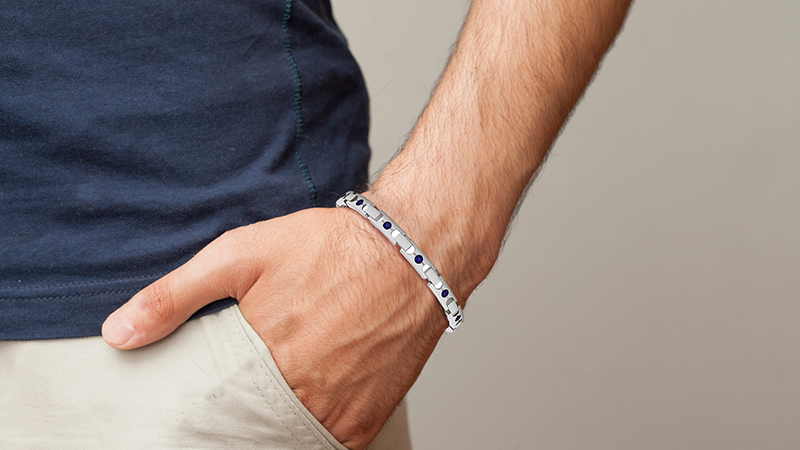 The men of today have always wanted to have an edge in whatever they do, and this definitely includes how one styles themselves and showcases themselves in front of the world. Bracelets are a type of accessory that helps them achieve this goal, and hence they wear them proudly on their wrist!
4. Health Benefit
In ancient times, people believed that gemstones could heal a person naturally. Gemstones can retain energy and rejuvenate a person mentally and physically, was the belief. There are astrologers who still believe in the powers of gemstones and recommend people to wear the stones for their respective health benefits.
If you believe in astrology, one should always get feedback and then choose the gemstone adornments so that they do not affect you in any negative way.
5. A Sense of Belonging
At times, these little things make you want to be part of a group and feel like you're a part of a bigger entity.
For example, it is believed that artists wear gemstone bracelets as it helps them keep calm and balanced, so most of them wear them as they want to be part of a bigger entity which is the artist's society. These little adornments are believed to work like a charm in networking, and being fashionable and stylish at the same time.
GemsNY is the perfect place to get hold of your favorite gemstone bracelet in whichever gemstone you require. We are a bespoke jewelry organization that aims to redefine luxury and offer our clients the finest quality products.