Platinum and Gold are the most loved metals while one is choosing a piece of jewelry. Platinum has derived its name from the Spanish word 'platino' which means "little silver". Gold has received its name from old English and German origin words, like Geolu meaning yellow, which is the dominant characteristic of gold.
Platinum and Gold are two of the most traditional metals and have a huge significance culturally. Platinum symbolizes durability, purity, and is a symbol of status and reputation. Gold symbolizes prosperity, richness, and power.
It is a well-known fact that Platinum jewelry is more expensive than gold, due to the fact that precious metals are priced by weight, and platinum is much denser than gold, meaning it will be heavier. Though by grams, both metals are in a fairly similar price range, the density of platinum means that more is required to create jewelry pieces, making these pieces more expensive.
Below, we have listed a few other points to clear your confusion as to why platinum costs more than gold!
1. Purity
The cost per ounce of platinum and gold is based on pure metals. When we go out to buy ourselves jewelry, these metals are usually mixed with different alloys to make them more durable to be worn on a daily basis.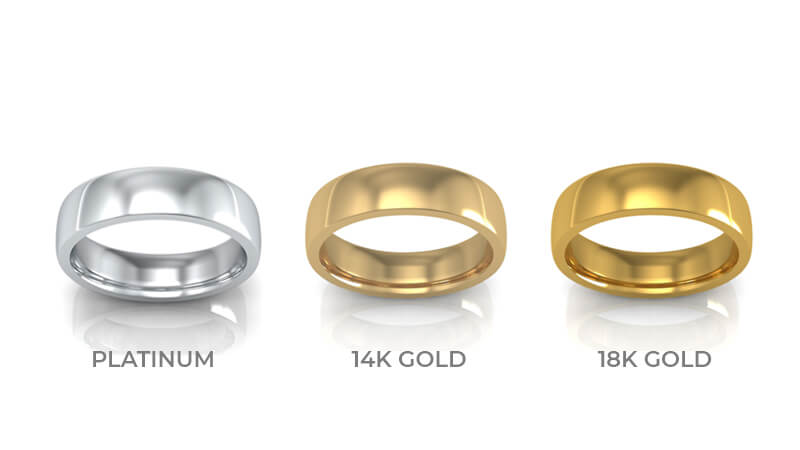 When these metals are converted into jewelry – 95% of pure platinum is used and 5% of other alloys are used. This is because Platinum in itself is a harder metal.
On the other hand, pure gold or 24k gold is softer and so to make it harder, and to be used as jewelry – a higher percentage of alloys are mixed with it. To make 14k gold – 58.5% of pure gold is used and 41.5% of alloys like silver, copper, zinc, etc. are mixed. And 18k gold has 75% of pure metal and 25% different alloys.
2. Rarity
Platinum mines around the world are lesser compared to gold mines. Only 160 tons of platinum can be sourced annually, whereas on the same scale, approximately, 1500 tons of gold are mined.
Looking at how platinum is rarer than gold, the cost of this metal is compelled to be higher compared to gold.
3. Density
Platinum is said to be denser than gold. Precious metals are sold by weight, and so the volume of one ounce of platinum is smaller than one ounce of gold.
Platinum vs gold rings, if weighed, Platinum's weight will be 50% more than that of a gold ring.
In conclusion, the choice between the two metals will boil down to one thing – preference, but hopefully, with our pointers, a more conscious choice can be made. You can decide the best metal that suits your style. We at GemsNY have a huge variety of jewelry to choose from in both platinum vs gold (14k and 18K).